Home>>
Bone Marrow Transplants
Bone Marrow Transplant (BMT), Pediatric BMT at World Class Hospitals in India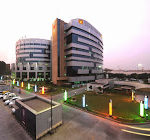 Centre for Bone Marrow Transplant is the largest in India and among the biggest in Asia. A stand alone dedicated facility, equipped with ultra‐modern infrastructure nd internationally trained, widely experienced faculty. The Centre is supported by state‐of‐the‐art laboratory services and transfusion services, along with a fully equipped radiation oncology unit with facility for total body irradiation.
In a short span of last few years, our affiliated BMT centre has done more than 500 transplants with > 80 Percent success rate. including India's first Multiple Donor Transplant. Each BMT treatment room is supported by separate HEPA filter with triple level air filtration. Transplants are routinely performed for children as well as adults. The centre is credited with Delhi's First MUD (Match Unrelated Donor) Transplant.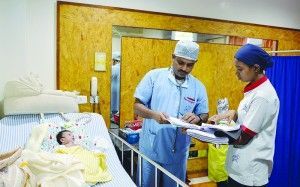 This is the only hospital with a dedicated 24 bed BMT unit with Pediatric ICUs and the back up of best in class radiation and medical oncology services.
The Centre offers both allogenic and autologous transplant using bone marrow, peripheral blood stem cells and cord blood stem cells for various benign and malignant disorders like Thalassemia, Aplastic Anaemia, Leukemia, Lymphomas, Multiple Myelomas and Advanced Paediatric Solid Tumors.
---
What is Bone Marrow Transplant/Stem Cell Transplant?
Bone marrow transplantation (BMT/SCT) is a medical procedure being used to treat diseases once thought incurable. Bone marrow transplantation (also known as stem cell transplantation) involves harvesting healthy stem cells from the donor to replenish the bone marrow of the patient. The new stem cells take over the production of the blood cells. It is the transplantation of multi potent hematopoietic stem cells, usually derived from bone marrow, peripheral blood stem cells, or umbilical cord blood from donor to recipient.
---
Who requires Bone Marrow Transplant/Stem Cell Transplant?
Stem cell transplant is a curative treatment for various diseases:
Thalassemia & Sickle cell disease.
Aplastic anemia.
Leukemia's (ALL, AML, CML, CLL).
Multiple myeloma.
High grade lymphoma's.
Neuroblastoma.
Wilm's tumor.
High grade sarcoma's.
Types of Stem Cell Transplant
Allogenic transplant (from a donor).
Autologous transplant (from self)
Sibling Donor Transplant.
Match Unrelated Donor.
Haplo‐ identical Transplant.
Cord Blood Transplant
Allogeneic BMT involves using the stem cells of a donor.
The donor may be a relative, usually a brother or sister, or an unrelated (anonymous) donor.
The donor needs to be Histocompatible Leukocyte antigen (HLA) match.
Autologous BMT is done by using the patient's own stem cells.
Indications of Autologous BMT
Acute Promyelocytic Leukemia.
Multiple Myeloma.
Hodgkins & Non Hodgkins Lymphoma.
Germ Cell Tumor.
---
Different types of Bone Marrow Transplant
There are three kinds of bone marrow transplants:
Autologous bone marrow transplant:"Auto" means "self." Immature marrow cells (stem cells) are removed from the patient himself before he receives high-dose chemotherapy or radiation treatment. After these treatments are done, the stems cells are put back in the body. This is called a "rescue" transplant.

Allogeneic bone marrow transplant:"Allo" means "other." Immature marrow cells are removed from another person, called a donor. Most times, the donor must have the same genetic makeup as the patient, so that their blood is a "match" to the patient's. Special blood tests are done to determine if a donor is a good match for the patient. A brother or sister is most likely to be a good match. However, sometimes parents, children, and other relatives may be good matches. If the patient's identical twin becomes the donor then it is called Syngeneic bone marrow transplant. Donors who are not related to the patient may be found through international bone marrow registries.

Umbilical cord blood transplant:Immature marrow cells (stem cells) are removed from a new born baby's umbilical cord immediately after being born. The stem cells are stored until they are needed for a transplant. Umbilical cord blood cells are so immature, that the problem of mismatch seldom occurs.
---
How to get started ?
The patient should have a related and matching donor. The following tests should be done for both patient and the related donor and also please email the reports to us for opinion by India's leading specialist doctors.
1) HLA typing
2) Serum Ferritin Report
3) Blood screening Report
---

Cost Estimate for Bone Marrow Transplant at World Class Hospital in India
Cost Estimate for Bone Marrow Transplant in India is 37000 to 40000 US Dollars stay in a Private Room where a Companion can stay with the patient surgeon fee, medicines and consumables, nursing care, food and Airport Pick & Drop. More accurate treatment cost estimates can be provided if medical reports are emailed to us or after the patient is examined by doctors after arrival at hospital in India and medical tests are done after admission.
What people say about us
"I had so many apprehensions and concerns prior to coming to India for surgery that I needed badly to regain my health. "Thanks for your always prompt responses to my volley of questions and concerns. I could not have managed even a step without your staff's excellent care. I couldn't be happier with the Indian hospitals, surgeon, physicians and their expertise. Everyone is very professional yet compassionate. All staff nurses and doctors are very attentive. My stay during treatment in India was very comfortable"
Ms. Janet Biuware, Cameroon
Write to us for a Free No Obligation Opinion and Cost Estimate for Bone Marrow Transplant Treatment from Top Doctors in India
Please scan and email your medical reports for a Free, No Obligation Opinion from India's leading Surgeons/ Specialist Doctors at India's Best Hospitals with in 48 Hours of receipt.
---
Invaluable Benefits you will get from SafeMedTrip.com
By emailing to us your medical reports, we will forward them to at least 3 leading hospitals in India who have the best expertise for your case. We ensure that you get expert opinions and competitive treatment cost estimates from top hospitals in 2 working days.
We do not collect any service fee from patients. You will directly pay the hospitals after you arrive in India and will deal directly with the hospital.
Complimentary non medical support services like airport pick on arrival, valuable advice on how to obtain India Medical Visa and Economical local stay post hospitalisation.
---